ENVIRONMENT AND CLIMATE FUND (ECF)
History
The "Nature Conservation Fund" was established by the State Great Khural Resolution 188 adopted in 1998 on the basis of article 34 of the Law on Environmental Protection. The organization and staffing of the fund have renewed by the Resolution 189 of the Government of Mongolia in 2012. Subsequently, the "Nature Conservation Fund" was reorganized as Environment and Climate Fund (ECF) in accordance with the decision of the State Great Khural session held on February 9, 2017.
Organizational Structure: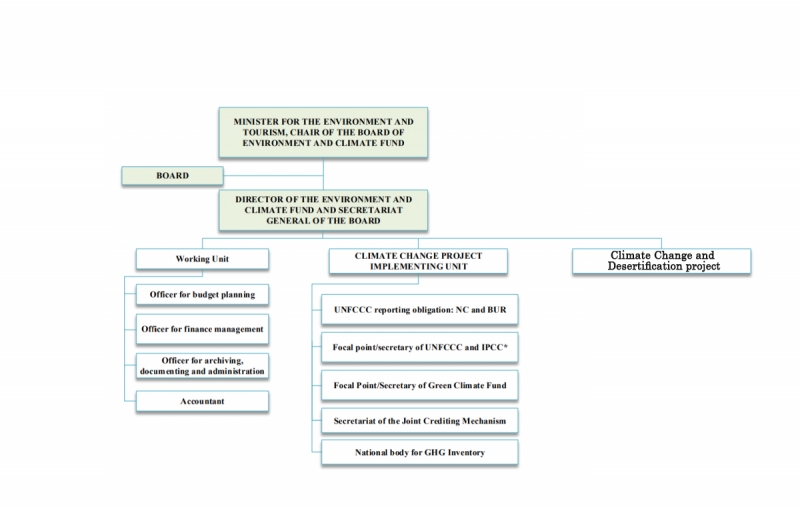 Mission Statement:
To ensure effective and efficient allocation of funds for the protection and rehabilitation of natural areas most valuable to human and wildlife well-beings, and sustainable utilization of its resources based on robust findings of environmental and field surveys, and through innovative technological applications and enhanced non-governmental participation in the monitoring policy implementations by raising public awareness and knowledge on environmental education and policies.
Resources Allocation:
Revenues of the Environment and Climate Fund are generated from the state budget, and disbursed in accordance of "Government Special Fund Law" section 7.1 of Article 7 and sections 12.1 and 12.2 of Article 12.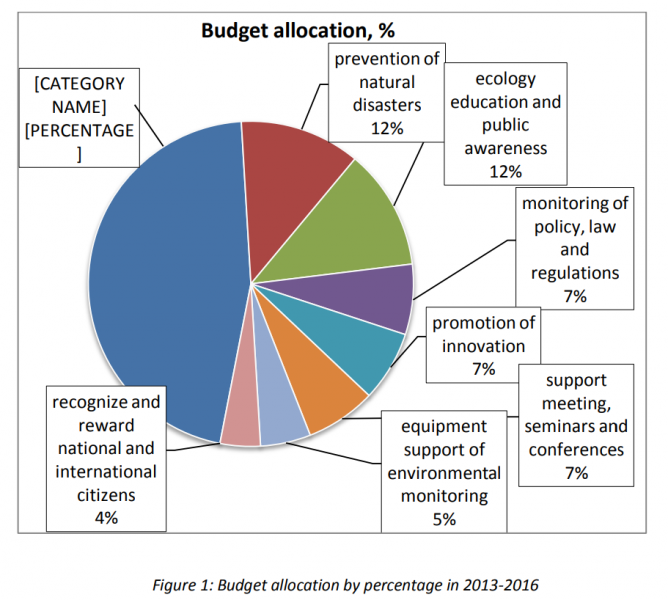 CLIMATE CHANGE PROJECT IMPLEMENTING UNIT (CCPIU) AT THE ECF
The MET has established a "Climate change project implementing unit (CCPIU) with a focus to fulfill the country's reporting obligations under United Nations Framework Convention on Climate Change (UNFCCC) at the ECF in 2015.
The main functions of CCPIU was but not limited to ensure the smooth implementations of following projects:
i. Preparation of intended nationally determined contribution (INDC) to the 2015 Agreement under the UNFCCC
ii. Preparation of Mongolia's initial Biennial Update Report (BUR) to UNFCCC (the Report is downloadable at UNFCCC website)
iii. Preparation of the Third National Communication (NC3) under the UNFCCC for Mongolia.
Additional key responsibilities are outlined below:
- The designated body for National GHG inventory and report to the UNFCCC (National Inventory Report has been developed in every two year and submitted to UNFCCC with inventory year covering from 1990 to 2014, See Mongolia's Initial BUR for more information)
- The secretary of the Joint Crediting Mechanism (JCM) since the 2013 total of 17 projects had been implementing. Within the JCM scope, in 2016, Mongolia issued its first Certified Emission Reductions (CER) from three projects which are equivalent to 9104 CERs in total.
- Key partner with UN-REDD programme (involved in developing UN REDD strategy, Forest Reference Level and National forest monitoring systems for REDD+ Mongolia)
- Focal point of Nationally Appropriate Mitigation Action (NAMA) registry. So far four projects have been registered to UNFCCC NAMA registry.
Ongoing and pipeline projects executed by CCPIU:
- "The establishment of sustainable national GHG inventory system through capacity building for GHG inventory" in technical cooperation project with JICA
- BUR3 and NC4 Mongolia
- Regional project for Capacity Development for Nationally Determined Contribution
- Capacity Building Initiative for Transparency (CBIT) in AFOLU