CNN- Australia is being ravaged by the worst wildfires seen in decades, with large swathes of the country devastated since the fire season began late July.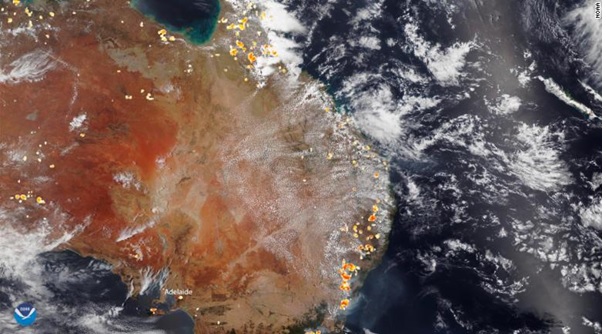 A satellite image of the bushfires burning across Australia on December 26.
A total of 24 people have died nationwide, and in the state of New South Wales alone, more than 1,300 houses have been destroyed.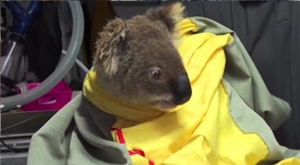 Independent- Ecologists at the University of Sydney estimate around 480 million creatures have been killed in the wildfires, including 8,000 koalas.
CNN- Almost a third of koalas in NSW may have been killed in the fires, and a third of their habitat has been destroyed, said Federal Environment Minister Sussan Ley. State and federal authorities are struggling to contain the massive blazes, even with firefighting assistance from other countries, including the United States.
All this has been exacerbated by persistent heat and drought, and many point to climate change as a factor making natural disasters go from bad to worse.
Why are the fires so bad?
Each year there is a fire season during the Australian summer, with hot, dry weather making it easy for blazes to start and spread. Fire season in Australia is always dangerous -- the 2009 Black Saturday fires killed 173 people in Victoria, making it the deadliest bushfire disaster on record. But conditions have been unusually severe this year, fanning the flames and making firefighting conditions particularly difficult.
Australia is experiencing one of its worst droughts in decades -- the country's Bureau of Meteorology said in December that last spring was the driest on record. Meanwhile, a heat wave in December broke the record for highest nationwide average temperature, with some places sweltering under temperatures well above 40 degrees Celsius (about 113-120 degrees Fahrenheit).
Experts say climate change has worsened the scope and impact of natural disasters like fires and floods, also weather conditions are growing more extreme.
Independent- Ash from the smoke could accelerate melting snow on the glaciers, which already face a climate disaster of their own. The whiteness of snow and ice reflects the sun's heat and slows melting, but as ash and dust settle on the snow, it absorbs more heat and melts at a faster rate. Over 3,000 glaciers in New Zealand are quickly disappearing due to global warming and many could completely melt away by the end of the century.
CNN- State and federal authorities have been working to combat the fire crisis for months.
NSW declared a state of emergency in December, which grants "extraordinary powers" to the NSWRFS commissioner, including the authority to allocate government resources and direct government agencies in taking action. The state of Queensland also briefly declared a state of emergency in November.
There are 2,300 firefighters working on the ground in NSW alone, and more support is on the way -- the US, Canada, and New Zealand have sent additional firefighters to help.
INFORMATION SOURCE: https://edition.cnn.com, https://www.independent.co.uk